Amber Daugherty is C-QuIPS' new Communications Specialist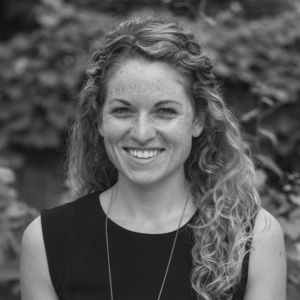 Amber Daugherty believes quality improvement is underrated.
"Most people who go to the hospital have no concept of the incredible amount of work happening behind the scenes," she said. "Every step of a patient's journey has been thought out – and it's continuously being modified; healthcare providers are always thinking critically about how to keep everyone safer and make care more efficient so patients can get home sooner."
Daugherty's appreciation for quality improvement came from her role as Senior Communications Advisor, Quality at Unity Health Toronto. Working with everyone from frontline healthcare providers to vice presidents, she saw firsthand – and wrote about – the number of initiatives being trialed and implemented, from new safety reporting systems, to programs designed to reduce patient falls, to LEAN exercises in emergency departments.
That's why she was so excited to take on a new role as Communications Specialist with the Centre for Quality Improvement and Patient Safety (C-QuIPS).
"Amber joined our team in the midst of a global pandemic and was immediately tasked with overseeing the communication of our Centre's renewed strategic vision and plan." said Dr. Brian Wong, C-QuIPS Director. "She brings an energy and expertise to our team that allows us to grow our community and elevates our ability at C-QuIPS to broadly share what we learn."
Before working at Unity Health Toronto, Daugherty was in the journalism world, working as a reporter and editor for the Globe and Mail and a chase produce for CTV News Channel.
"I love telling stories about the people behind initiatives," she said. "From the nurse who reports an unsafe practice they notice so it can be changed, to the simulation team who runs a scenario 20 times to figure out how they can deliver urgent care just a few seconds faster, there are endless examples of the significant impact healthcare providers have every day."
In her role at C-QuIPS, Daugherty is focusing on both highlighting the people at the centre of QIPS work, and sharing the research and findings about best practices in the field that can be adapted by other organizations.
As she gets started, Daugherty has an ask of the QIPS community.
"Send me your story ideas. Let me know the exciting projects, research and ideas you have so C-QuIPS can amplify your work," she said. "Healthcare gets better and safer every day because of professionals who care deeply about making the system more equitable, better and safer – so let us recognize your efforts and help share them."