Introducing Dr. Olivia Ostrow, new C-QuIPS associate director for SickKids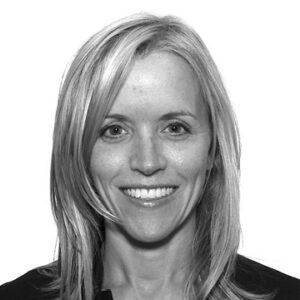 Dr. Olivia Ostrow is here to break down silos in health care. As a staff physician in the Division of Pediatric Emergency Medicine, a medical safety leader at the Hospital for Sick Children and an assistant professor in the Department of Pediatrics at the University of Toronto, her focus is on bringing people together to find innovative ways to keep patients safe, and use resources more wisely to provide high quality care.
And as a newly appointed associate director with the Centre for Quality Improvement and Patient Safety (C-QuIPS), she has a bigger platform to do exactly that.
"In this role, I hope to continue building quality improvement capacity at SickKids while also creating a bridge between the hospital and C-QuIPS to help tackle our quality and safety priorities," she said. "The pandemic has made quality and safety even more relevant and there's plenty of opportunity to grow these spaces, especially for pediatrics."
C-QuIPS, a joint partnership between the University of Toronto's Faculty of Medicine and three of its major teaching hospitals, Sunnybrook Health Sciences Centre, the Hospital for Sick Children ('SickKids'), and Women's College Hospital, focuses on research and education to accelerate and deepen the work of people and organizations that are passionate about enhancing quality and patient safety.
Dr. Brian Wong, C-QuIPS director, said Dr. Ostrow's experience fits in perfectly with C-QuIPS' mission.
"Dr. Ostrow is a well-established quality improvement and patient safety leader whose work has had an impact at institutional, regional and national levels," he said. "Prior to taking on the role of associate director, she served as our C-QUIPS certificate course co-director and was instrumental in building capacity amongst clinicians and fellows to lead quality improvement work at SickKids. We are thrilled to welcome her in her new role, and certain that her expertise in health system improvement and focus on patient safety and resource stewardship will elevate the Centre's ability to impact even more change in the years to come."
Dr. Ostrow's work as a course director for C-QuIPS' co-learning curriculum in quality improvement program has already led her to help create unlikely teams focused on improving the health system – in the program, faculty members and trainees from eleven divisions in the Department of Paediatrics learn about quality improvement and work on real projects together.
"What I really like about quality improvement work is that you can have a pediatric emergency doctor and a urologist in the same room and, when you're talking about quality and safety, it often doesn't matter that we practice in very different fields of medicine," she said. "We all share the same goal of striving to see change and a willingness to tackle complex problems to develop sustainable improvements so we can support better outcomes for patients."