Introducing Tara Burra, CQuIPS' new education lead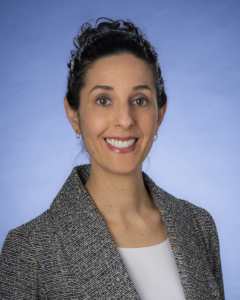 CQuIPS is often referred to as a connector – bringing people, ideas and projects together. So it's no surprise that Tara Burra, the Centre's new education lead, wants to use her platform to build a better connection between quality improvement (QI) and mental health.
Burra is a psychiatrist at Mount Sinai Hospital, the first QI lead in her department and one of the creators of a new quality improvement, innovation and patient safety academic hub in the University of Toronto's Department of Psychiatry. In addition to her clinical and QI background, she has experience revamping QI curriculum to be more effective and meaningful so clinicians have those skills embedded when they graduate.
"As trainees, we kind of get acculturated to the notion that there is a particular way of delivering care," she said. "One of the really important parts of quality improvement and patient safety to is to question that – there could perhaps be alternative or better ways to accomplish the same end through an improvement that at the same time enhances patient experience and reduced costs. It's also increasingly clear that it's important we diligently address health equity through QI."
As CQuIPS' education lead, Burra will support the development, organization and scholarship of the Centre's education programs with a specific focus on integrating health equity – one of CQuIPS' two key themes – into all program aspects from the faculty, coaches and guest speakers to the content being delivered. Burra shared this is important to her as a mother of a child with a physical disability and as a woman of mixed race.
"One of the driving forces behind my interest in quality improvement and patient safety is having the direct experience of many healthcare journeys with my child," she said. "We all contribute to ongoing improvement."
Brian Wong, CQuIPS director, said Burra's background makes her perfect for this position.
"As education lead, Tara will play a critical role in shaping how healthcare providers think about and approach QI," he said. "We're really excited to have her on board because she brings a unique perspective that complements the rest of our leadership team."
Burra said she hopes the connections she helps form between CQuIPS and the mental health field will hopefully encourage more mental health practitioners to get involved in QI.
"One of the main reasons I was interested in this role is that the community for QI in mental health is thus far relatively small," Burra said. "Mental health is a source of health inequity and I think it's really important we have mental health leaders as part of the larger QI community and to elevate QIPS competency within my specialty."