Equipping clinicians for academic success in quality improvement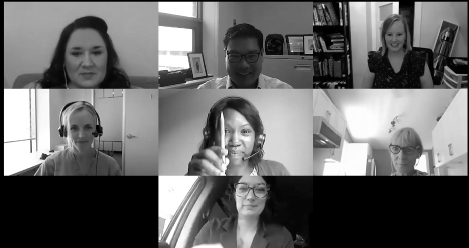 Any clinician can tell you that a knowledge of basic quality improvement (QI) principles does not guarantee successful QI projects; many QI attempts result in learnings rather than lasting change. Graduates of the Centre for Quality Improvement and Patient Safety (C-QuIPS) Excellence in Quality Improvement Certificate Program (EQUIP), however, will tell you that the year-long mentorship and education program will significantly increase the likelihood of those projects succeeding – and results being published.
"In the program, we learned how to write a good QI paper, what QI editors are looking for and how to structure a project so it can be written about and shared," said Dr. Anne Smeraglio, a 2020 EQUIP graduate and hospitalist at the Portland Oregon VA Health Care System. "And since graduating, those lessons have helped me get published."
Knowledge gained in the program also helped Dr. Smeraglio advance to more senior roles – she's now the Director of Quality Improvement in the Oregon Health & Science University's internal medicine residency program​ and was invited to teach as part of the Accreditation Council for Graduate Medical Education's Program Director Patient Safety and Quality (PDPQ) Educators Network.
Dr. Smeraglio is not unique in this sense – many of the program's more than 60 graduates to date from all across North America have found success in leading, teaching and publishing their QI work. Dr. Adina Weinerman, now one of EQUIP's core faculty members, was in the program's first cohort and said the program has had a significant impact on her career.
"EQUIP strengthened my quality improvement knowledge and made me more confident to lead and mentor quality improvement projects in an academic environment," she said. "As a direct result of EQUIP, I am now the Medical Director, Quality and Patient Safety at my academic institution, and couldn't be happier."
EQUIP is delivered through six full days of virtual training (July 7-9, 2021 and May 9-11, 2022) and monthly webinars between. Over the course of the program, learners benefit from one-on-one coaching and mentorship from EQUIP faculty who are internationally recognized QI clinicians and experts. In addition to track records successfully executing QI projects in academic settings, faculty members have published their work in high-impact journals such as JAMA Internal Medicine¸ Academic Medicine and BMJ Quality & Safety.
"EQUIP is meant to provide a deeper dive into QI methodologies and help clinicians take their QI skills to the next level," said Dr. Brian Wong, C-QuIPS Director and EQUIP Co-Director along with Dr. Kaveh Shojania. "We've been amazed in every cohort at the calibre of our learners – they all bring a lot of energy and enthusiasm for QI and we know they make an impact in the QI field after they leave."
Dr. Benjamin Leis, a newly-appointed staff physician and assistant professor at the University of Saskatchewan College of Medicine, was a cardiology trainee when he took the EQUIP course.
"Through EQUIP, I was taught a systematic approach to quality improvement which is invaluable and has already led to two publications in the last year and a half," he said. "You are more likely to be successful in QI with the foundations taught in the EQUIP program. You will also meet wonderful people and mentors who will share your enthusiasm and be very useful professional connections for the rest of your career."
Spots are open for the program's fifth cohort. Learn more and apply here.